ASBESTOS LICENSE REQUIREMENTS
EFFECTIVE JANUARY 1, 2016
LODGING CHANGE FOR ALL STUDENTS ATTENDING THE EDWARDSVILLE TRAINING FACILITY
CLICK HERE FOR MORE INFORMATION

EFFECTIVE FEBRUARY 2, 2015:

All classes conducted at any ILCJATP facility will be offered on a four (4)-day schedule. Classes will be held Monday through Thursday of each week, with students attending class ten (10) hours per day. Classes will be held 7:00 a.m. until 5:30 p.m. daily.
Click here for more information

IMPORTANT APPRENTICE INFORMATION
PLEASE READ
Please be advised that the Board of Trustees of the Illinois Laborers' & Contractors Joint Apprenticeship & Training Program has implemented a Trainee Mileage Policy effective September 1, 2014. The prior Trainee Stipend policy will be discontinued as of the September 1, 2014 date.
To view the changes to this policy, click on the image below: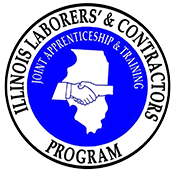 APPRENTICESHIP APPLICATIONS:
Apprenticeship applications are now closed for 2015, with the exception of a few select Locals.

CLICK THE APPLY BUTTON TO THE RIGHT FOR DATES AND TIMES FOR YOUR LOCAL, AS SOME LOCALS DO REMAIN OPEN YEAR-ROUND.

The Illinois Laborers' & Contractors Joint Apprenticeship and Training Fund is sponsored by the Illinois Laborers' District Councils in conjunction with the Associated General Contractors of Illinois, Central Illinois Builders of AGC, Southern Illinois Builders of AGC, Northern Illinois Builders of AGC and individual contractors throughout the state who contribute to the Fund.
Since 1969, we have been providing training that enhances the skills of our Construction Craft Laborers while expanding the competitiveness of our union contractors.
AASHTO's Transportation TV has produced a 30 second PSA to spread the word: