Our Training Center stands on 283 acres twelve miles east of Mt. Sterling just off Route 24 in Brown County, Illinois.

REPORT TO TRAINING CENTER OFFICE TO COMPLETE NECESSARY PAPERWORK BY 7:00 a.m. ON MONDAY MORNING.
Effective Immediately - Reservations will be accepted for Sunday night room accommodations at any of our training facilities.
RESERVATIONS MUST BE MADE BY PHONING:
Mt. Sterling Training Facility
(217) 773-2741

Check in for all facilities is between the hours of 3:00 p.m. and 8:00 p.m. on Sunday evening.
NO RESERVATIONS = NO ROOM
NO EXCEPTIONS
Trainees will be allowed to arrive at the Mt. Sterling Training Center site on Sunday evenings. Check in time is from 3:00 p.m. until 8:00 p.m. on Sunday Evening, NO MEALS ARE AVAILABLE. All trainees who wish to check-in on Sunday night must first make reservations with the ILCJATP office by 12 noon on the Thursday prior to class beginning. Anyone arriving without a reservation will not be allowed on-site until Monday morning - NO EXCEPTIONS.

Individuals enrolled in classes should bring appropriate hands-on work attire (boots, work clothes, gloves, etc.) Appropriate apparel is mandatory for hands-on training.
Effective January 1, 2009, all APPRENTICES attending classes at any of the ILCJATP facilities or any off-site training location will be required to bring their issued Personal Protective Equipment (PPE) EACH and EVERY time they attend class. This includes their OSHA Standards Book, all which is received during 1st week Craft Orientation Class.

This includes the following:
Hard Hat
Safety Glasses
OSHA Standards Regulations Book
A $10.00 per offense penalty will be imposed on students who do not bring or wear their issued PPE and OSHA Standards Regulations Book.

ALL STUDENTS will be required to bring their own concrete boots to their concrete classes. The training center will not provide these for the students.
Training Allowance
The Board of Trustees of the Illinois Laborers' & Contractors Joint Apprenticeship & Training Program has implemented a Trainee Mileage Policy effective September 1, 2014. The prior Trainee Stipend policy has been discontinued as of September 1, 2014.
View the changes to this policy here
.
THE PHYSICAL ADDRESS FOR MT. STERLING WILL NOT ALWAYS GET YOU WHERE YOU NEED TO BE DEPENDING ON WHAT ONLINE MAP YOU ARE USING. CLICK BELOW AND FOLLOW THE INSTRUCTIONS LISTED BELOW TO OBTAIN THE CORRECT SET OF DIRECTIONS TO OUR MT. STERLING FACILITY.


1. CLICK THE LOGO BELOW TO SEE A MAP WITH THE PINNED LOCATION FOR OUR MT. STERLING FACILITY.
2. CLICK THE GREEN BUTTON ON THE ACTION BAR ABOVE THE PINNED LOCATION.
3. SELECT WHICH MAP YOU WOULD LIKE TO USE.
FROM THERE, YOU WILL BE ABLE TO PLUG IN YOUR CURRENT LOCATION TO OBTAIN DIRECTIONS.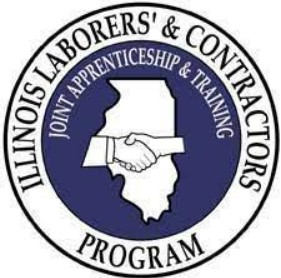 Please call (217) 773-2741 if further directions are needed.
Rec Center - Our recreation center is opened Monday-Thursday, 8AM-10PM. Includes cardiovascular equipment, weight training machines, and basketball court.

Outdoors - Our training center is surrounded by some of nature's most beautiful plants and wild life. On the training center grounds, a laborer can fish, hike, or just relax and enjoy the view.

Dorms - Each of our rooms is equipped with a bed, desk, satellite television, and a connected bathroom. Dorms also include a lounge were the laborers can relax and watch TV.

Dining - Our kitchen staff serves three delicious meals a day free of charge while attending class at the training center.

Break Room - Our break room is designed for laborers to relax and unwind. Activities include a pool table, pinball machine, darts and classic arcade games.

Great Room - This cozy lounge area gives trainees the perfect place to relax, watch television, or just enjoy the view of the outdoors.