The Marion Training Center broke ground in April of 2007. The 16,000 square-foot building includes a classroom area with integrated audio/visual equipment and a hands-on training arena.

REPORT TO TRAINING CENTER OFFICE TO COMPLETE NECESSARY PAPERWORK BY 7:00 a.m. ON MONDAY MORNING.

Effective Immediately - Reservations will be accepted for Sunday night room accommodations at any of our training facilities.
RESERVATIONS MUST BE MADE BY PHONING:
Mt. Sterling Training Facility
(217) 773-2741

Check in for all facilities is between the hours of 3:00 p.m. and 8:00 p.m. on Sunday evening.
NO RESERVATIONS = NO ROOM
NO EXCEPTIONS
Upon arrival to class, ILCJATP Marion Training Facility Staff will provide you with your room accommodation information. Trainees will be provided overnight accommodations for the nights of Sunday through Thursday evenings. All trainees who wish to check-in on Sunday night must first make reservations with the ILCJATP office by 12 noon on the Thursday prior to class beginning. All rooms will be double occupancy; there are no provisions for single rooms. In addition, lunch will be provided for students attending classes at Marion Training Facility.

Individuals enrolled in classes should bring appropriate hands-on work attire (boots, work clothes, gloves, etc.) Appropriate apparel is mandatory for hands-on training.
Effective January 1, 2009, all APPRENTICES attending classes at any of the ILCJATP facilities or any off-site training location will be required to bring their issued Personal Protective Equipment (PPE) EACH and EVERY time they attend class. This includes their OSHA Standards Book, all which is received during 1st week Craft Orientation Class.

This includes the following:
Hard Hat
Safety Glasses
OSHA Standards Regulations Book

A $10.00 per offense penalty will be imposed on students who do not bring or wear their issued PPE and OSHA Standards Regulations Book.
ALL STUDENTS will be required to bring their own concrete boots to their concrete classes. The training center will not provide these for the students.
Training Allowance
The Board of Trustees of the Illinois Laborers' & Contractors Joint Apprenticeship & Training Program has implemented a Trainee Mileage Policy effective September 1, 2014. The prior Trainee Stipend policy has been discontinued as of September 1, 2014. View the changes to this policy here.


THE PHYSICAL ADDRESS FOR MARION WILL NOT ALWAYS GET YOU WHERE YOU NEED TO BE DEPENDING ON WHAT ONLINE MAP YOU ARE USING. CLICK BELOW AND FOLLOW THE INSTRUCTIONS LISTED BELOW TO OBTAIN THE CORRECT SET OF DIRECTIONS TO OUR MARION FACILITY.

1. CLICK THE LOGO BELOW TO SEE A MAP WITH THE PINNED LOCATION FOR OUR MARION FACILITY.

2. CLICK THE GREEN BUTTON ON THE ACTION BAR ABOVE THE PINNED LOCATION.

3. SELECT WHICH MAP YOU WOULD LIKE TO USE.

FROM THERE, YOU WILL BE ABLE TO PLUG IN YOUR CURRENT LOCATION TO OBTAIN DIRECTIONS.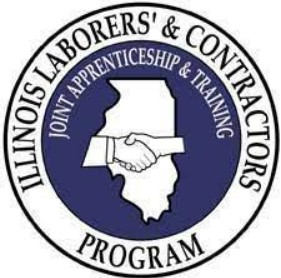 CLICK HERE FOR DIRECTIONS TO TOUCH OF NATURE - LODGING


Please call (217) 773-2741 if further directions are needed.
Training Area
The training arena has carefully mapped out stations where students can practice construction techniques. Concrete and asphalt students can pour the material, set forms and do demolition.

A 50-foot trench allows students to learn to lay pipe; there is scaffolding for mason tenders and an area for students to learn about environmental services such as asbestos or hazardous waste removal.

Another training station has 4-foot-high concrete walls at the perimeter of the space where students will practice piling, grading and leveling dirt against it. A 14-foot-high mezzanine along one end will serve as a mock roadway, where students will build forms and erect concrete piers and a bridge to connect with the mock on-ramp.
Lodging
Little Grassy Camp is known as the Touch of Nature Environmental Center. It lies on 3,100 acres of primarily forested land located on the shore of Little Grassy Lake - eight miles south of Carbondale and is bordered by Giant City State Park, the Shawnee National Forest, and the Crab Orchard National Wildlife Refuge.
Classrooms
The area includes four classrooms with integrated audio visual equipment and moveable partition walls that open to create a large meeting or banquet room.